Kitchen Plumbing Services

Handyman Services of Hayward

(510) 731-0309
Kitchen Plumbing Garbage Disposals, Faucets, and More near Hayward California
Handyman Services Of Hayward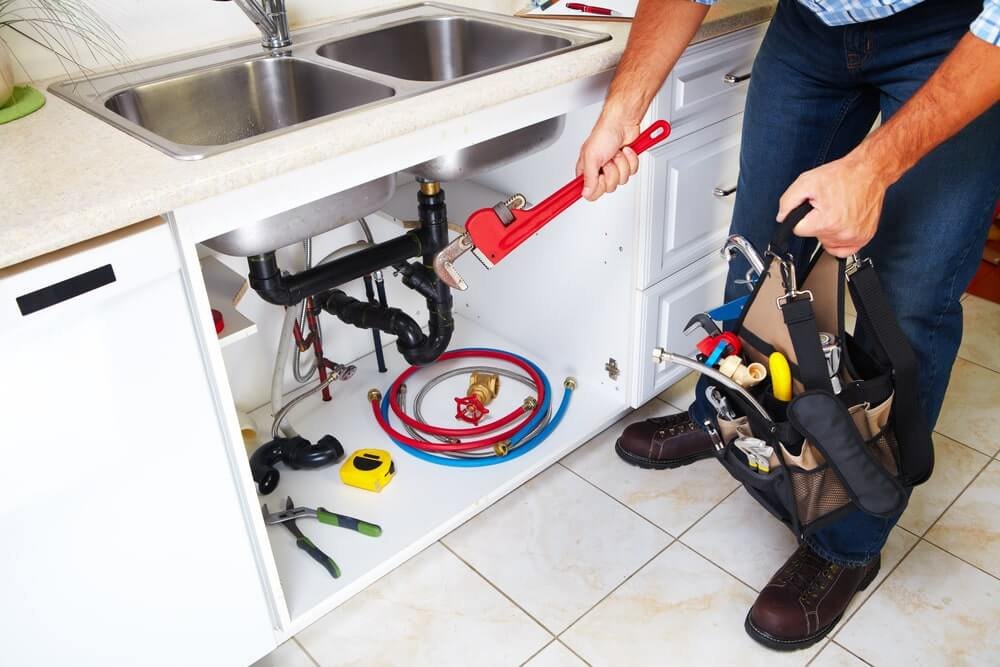 Handyman Services Of Hayward provides homeowners in Hayward California and the surrounding areas with kitchen plumbing services that help them maintain a safe and efficient kitchen. Our services include:
Kitchen plumbing installations
Kitchen plumbing repairs
Kitchen plumbing maintenance
Kitchen remodeling plumbing
Kitchen drain cleaning
We also offer 24/7 emergency plumbing services that minimize damage and address the problem at the source.
When you need plumbing services for the kitchen of your Hayward California-area home, turn to the experts at Handyman Services Of Hayward! Call (510) 731-0309 to schedule.
Kitchen Plumbing Repair Services
Is it time to replace your kitchen faucets? Do you need a kitchen sink repair? Handyman Services Of Hayward fixes every type of kitchen fixture or appliance, including:
Garbage disposals
Dishwashers
Ice makers
Water softeners
Whatever it takes to get your kitchen running smoothly again, our technicians can do it all!
Kitchen Plumbing Installation Services
Handyman Services Of Hayward' expert technicians will upgrade and install new kitchen plumbing fixtures for your existing or newly remodeled kitchen. Our courteous and professional services save you time and ensure your new kitchen fixtures look great and work efficiently.
Our kitchen plumbing installation services include:
Kitchen faucets
Kitchen sinks
Dishwashers
Garbage disposals
Refrigerators and refrigerator supply lines
Icemakers
When you call Handyman Services Of Hayward for kitchen plumbing installation services, you get cost-effective, long-lasting solutions and minimal disruption!
Kitchen Plumbing Maintenance Services
Regular plumbing inspections can save you money by reducing emergency plumbing repairs and fixing minor issues before they become major problems. Services like drain cleaning lessen the chance of clogs and get rid of foul odors. And periodic inspections of your garbage disposal, dishwasher, and refrigerator hoses and lines help prevent leaks or equipment breakdowns.
DIY tasks homeowners can perform include:
Not putting grease and other oils down the drain.
Not using your garbage disposal as a trash compactor (no peels or stringy fruits and vegetables).
Addressing leaking fixtures quickly by adjusting or tightening them. If that doesn't fix the problem, call in a professional.
Maintain a safe and efficient kitchen by calling Handyman Services Of Hayward for all your kitchen plumbing repair, installation, and maintenance needs. Contact us online to learn more or schedule services.
Why Choose Handyman Services Of Hayward?
For over 70 years, the team of plumbing experts at Handyman Services Of Hayward has had an unwavering commitment to maintaining high industry standards and exceptional customer service. We're a true one-stop provider of all the kitchen plumbing services you need for your Hayward California, Waxhaw, or Huntersville home. You can depend on us to bring you the extraordinary know-how it takes to keep your kitchen plumbing running as it should.
As a full-service plumber, our technicians are:
Certified, licensed, and insured.
Able to complete any need, from repairs and maintenance to full installations.
Backed by and affiliated with top industry associations
We also offer maintenance membership plans that make it simple for you to schedule the inspections, tune-ups, and repairs needed to keep your kitchen plumbing system operating efficiently all year long.
Are you looking for the best kitchen plumbing services in Hayward California, Waxhaw, Huntersville, and the surrounding areas? Handyman Services Of Hayward is here for you! Contact us online or call (510) 731-0309 to schedule service.
Hayward California Kitchen Plumbing Services near me
Mountain View, CA Kitchen Plumbing Services near me
Los Altos, CA Kitchen Plumbing Services near me
Sunnyvale, CA Kitchen Plumbing Services near me
Los Altos Hills, CA Kitchen Plumbing Services near me
Palo Alto, CA Kitchen Plumbing Services near me
Cupertino, CA Kitchen Plumbing Services near me
Stanford, CA Kitchen Plumbing Services near me
East Palo Alto, CA Kitchen Plumbing Services near me
Menlo Park, CA Kitchen Plumbing Services near me
Santa Clara, CA Kitchen Plumbing Services near me
Saratoga, CA Kitchen Plumbing Services near me
Campbell, CA Kitchen Plumbing Services near me
Milpitas, CA Kitchen Plumbing Services near me
Newark, CA Kitchen Plumbing Services near me
Redwood City, CA Kitchen Plumbing Services near me
San Jose, CA Kitchen Plumbing Services near me
Alameda Kitchen Plumbing Services near me
Albany Kitchen Plumbing Services near me
American Canyon Kitchen Plumbing Services near me
Antioch Kitchen Plumbing Services near me
Atherton Kitchen Plumbing Services near me
Belmont Kitchen Plumbing Services near me
Belvedere Kitchen Plumbing Services near me
Benicia Kitchen Plumbing Services near me
Berkeley Kitchen Plumbing Services near me
Brentwood Kitchen Plumbing Services near me
Brisbane Kitchen Plumbing Services near me
Burlingame Kitchen Plumbing Services near me
Calistoga Kitchen Plumbing Services near me
Campbell Kitchen Plumbing Services near me
Clayton Kitchen Plumbing Services near me
Cloverdale Kitchen Plumbing Services near me
Colma Kitchen Plumbing Services near me
Concord Kitchen Plumbing Services near me
Corte Madera Kitchen Plumbing Services near me
Cotati Kitchen Plumbing Services near me
Cupertino Kitchen Plumbing Services near me
Daly City Kitchen Plumbing Services near me
Danville Kitchen Plumbing Services near me
Dixon Kitchen Plumbing Services near me
Dublin Kitchen Plumbing Services near me
East Palo Alto Kitchen Plumbing Services near me
El Cerrito Kitchen Plumbing Services near me
Emeryville Kitchen Plumbing Services near me
Fairfax Kitchen Plumbing Services near me
Fairfield Kitchen Plumbing Services near me
Foster City Kitchen Plumbing Services near me
Fremont Kitchen Plumbing Services near me
Gilroy Kitchen Plumbing Services near me
Half Moon Bay Kitchen Plumbing Services near me
Hayward Kitchen Plumbing Services near me
Healdsburg Kitchen Plumbing Services near me
Hercules Kitchen Plumbing Services near me
Hillsborough Kitchen Plumbing Services near me
Lafayette Kitchen Plumbing Services near me
Larkspur Kitchen Plumbing Services near me
Livermore Kitchen Plumbing Services near me
Los Altos Kitchen Plumbing Services near me
Los Altos Hills Kitchen Plumbing Services near me
Los Gatos Kitchen Plumbing Services near me
Martinez Kitchen Plumbing Services near me
Menlo Park Kitchen Plumbing Services near me
Mill Valley Kitchen Plumbing Services near me
Millbrae Kitchen Plumbing Services near me
Milpitas Kitchen Plumbing Services near me
Monte Sereno Kitchen Plumbing Services near me
Moraga Town Kitchen Plumbing Services near me
Morgan Hill Kitchen Plumbing Services near me
Mountain View Kitchen Plumbing Services near me
Napa Kitchen Plumbing Services near me
Newark Kitchen Plumbing Services near me
Novato Kitchen Plumbing Services near me
Oakland Kitchen Plumbing Services near me
Orinda Kitchen Plumbing Services near me
Pacifica Kitchen Plumbing Services near me
Palo Alto Kitchen Plumbing Services near me
Petaluma Kitchen Plumbing Services near me
Piedmont Kitchen Plumbing Services near me
Pinole Kitchen Plumbing Services near me
Pittsburg Kitchen Plumbing Services near me
Pleasant Hill Kitchen Plumbing Services near me
Pleasanton Kitchen Plumbing Services near me
Portola Valley Kitchen Plumbing Services near me
Redwood City Kitchen Plumbing Services near me
Richmond Kitchen Plumbing Services near me
Rio Vista Kitchen Plumbing Services near me
Rohnert Park Kitchen Plumbing Services near me
Helena Kitchen Plumbing Services near me
San Anselmo Kitchen Plumbing Services near me
San Bruno Kitchen Plumbing Services near me
San Carlos Kitchen Plumbing Services near me
San Francisco Kitchen Plumbing Services near me
San Jose Kitchen Plumbing Services near me
San Leandro Kitchen Plumbing Services near me
San Mateo Kitchen Plumbing Services near me
San Pablo Kitchen Plumbing Services near me
San Rafael Kitchen Plumbing Services near me
San Ramon Kitchen Plumbing Services near me
Santa Clara Kitchen Plumbing Services near me
Santa Rosa Kitchen Plumbing Services near me
Saratoga Kitchen Plumbing Services near me
Sausalito Kitchen Plumbing Services near me
Sebastopol Kitchen Plumbing Services near me
Sonoma Kitchen Plumbing Services near me
South San Francisco Kitchen Plumbing Services near me
Suisun City Kitchen Plumbing Services near me
Sunnyvale Kitchen Plumbing Services near me
Tiburon Kitchen Plumbing Services near me
Town Kitchen Plumbing Services near me
Union City Kitchen Plumbing Services near me
Vacaville Kitchen Plumbing Services near me
Vallejo Kitchen Plumbing Services near me
Walnut Creek Kitchen Plumbing Services near me
Windsor Kitchen Plumbing Services near me
Woodside Kitchen Plumbing Services near me
Yountville Kitchen Plumbing Services near me