AC Installation & AC Replacement Services

Handyman Services of Hayward

(510) 731-0309
AC Installation & AC Replacement Service near Hayward California
Handyman Services Of Hayward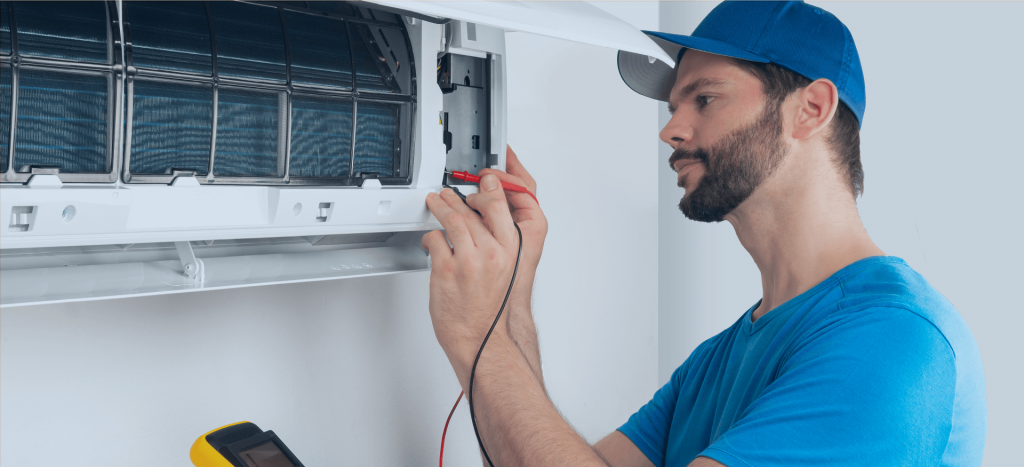 Whether you are moving into a new home and want to install a brand new air conditioning system, or are looking to upgrade to the latest air conditioning technology, at Handyman Services Of Hayward, you can count on us to deliver nothing but the best. We take pride in our exceptional customer service, as well as in our workmanship. Our team of Hayward California HVAC experts have years of combined experience at their job, and use only the latest technology and equipment for all AC installation and replacement services. We want to make sure that you are truly happy with your new air conditioner, and are always available to answer all of your questions and offer our expertise and advice to help you make the best decision for your home. Your home's air conditioning system is important for providing you and your family with healthy indoor air quality and a comfortable home. Our HVAC professionals go above and beyond are trusted locally. If you are looking for the most trusted AC installation services in Hayward California, you can count on us to get the job done for you right.
Professional AC Replacement in Hayward California
While we'll always strive to make repairs whenever they are feasible and cost-effective for you, there are many cases in which it makes more sense to replace your air conditioner. When you require a full AC system replacement, Handyman Services Of Hayward is here to help. Our Hayward California air conditioning installation experts are educated on the best products on the market when the time comes to upgrade your AC, so you can feel confident that you'll receive a quality system and perfect installation.
Signs You Need AC Replacement
1.Your unit is over 10 years old – On average, AC units last from 8-12 years so if your unit is much older than that you should always think twice before sinking more money into it.
2.Repair after repair – While we will always be happy to come in and fix your unit, you shouldn't be needing repairs every season. Do yourself a favor and consult our Hayward California AC replacement experts, it'll save you money in the long run.
3.It requires R22 Freon – While the use of the banned coolant is still permissible, it will become incredibly expensive because of the 2020 Freon ban as it becomes more and more scarce.
4.Rising utility bills – All HVAC units get a little bit less efficient as time goes on. What this means is that your AC will need more electricity to achieve the same temperature and this additional work will cost you each month.
5.Loud noises – Always take note of any new sounds that are very loud and mention them to our Hayward California AC installation experts. These problems can worsen over time so it's important to act quickly before the noises get louder.
Benefits of AC Replacement in Hayward California
Replacing your old air conditioner with a modern one that is equipped with new technology and features offers you and your family a number of great benefits to enjoy.
Hayward California AC Installation & AC Replacement Services near me
Mountain View, CA AC Installation & AC Replacement Services near me
Los Altos, CA AC Installation & AC Replacement Services near me
Sunnyvale, CA AC Installation & AC Replacement Services near me
Los Altos Hills, CA AC Installation & AC Replacement Services near me
Palo Alto, CA AC Installation & AC Replacement Services near me
Cupertino, CA AC Installation & AC Replacement Services near me
Stanford, CA AC Installation & AC Replacement Services near me
East Palo Alto, CA AC Installation & AC Replacement Services near me
Menlo Park, CA AC Installation & AC Replacement Services near me
Santa Clara, CA AC Installation & AC Replacement Services near me
Saratoga, CA AC Installation & AC Replacement Services near me
Campbell, CA AC Installation & AC Replacement Services near me
Milpitas, CA AC Installation & AC Replacement Services near me
Redwood City, CA AC Installation & AC Replacement Services near me
San Jose, CA AC Installation & AC Replacement Services near me
Alameda AC Installation & AC Replacement Services near me
Albany AC Installation & AC Replacement Services near me
American Canyon AC Installation & AC Replacement Services near me
Antioch AC Installation & AC Replacement Services near me
Atherton AC Installation & AC Replacement Services near me
Belmont AC Installation & AC Replacement Services near me
Belvedere AC Installation & AC Replacement Services near me
Benicia AC Installation & AC Replacement Services near me
Berkeley AC Installation & AC Replacement Services near me
Brentwood AC Installation & AC Replacement Services near me
Brisbane AC Installation & AC Replacement Services near me
Burlingame AC Installation & AC Replacement Services near me
Campbell AC Installation & AC Replacement Services near me
Clayton AC Installation & AC Replacement Services near me
Cloverdale AC Installation & AC Replacement Services near me
Colma AC Installation & AC Replacement Services near me
Concord AC Installation & AC Replacement Services near me
Corte Madera AC Installation & AC Replacement Services near me
Cotati AC Installation & AC Replacement Services near me
Cupertino AC Installation & AC Replacement Services near me
Daly City AC Installation & AC Replacement Services near me
Danville AC Installation & AC Replacement Services near me
Dixon AC Installation & AC Replacement Services near me
Dublin AC Installation & AC Replacement Services near me
East Palo Alto AC Installation & AC Replacement Services near me
El Cerrito AC Installation & AC Replacement Services near me
Fairfax AC Installation & AC Replacement Services near me
Fairfield AC Installation & AC Replacement Services near me
Foster City AC Installation & AC Replacement Services near me
Fremont AC Installation & AC Replacement Services near me
Gilroy AC Installation & AC Replacement Services near me
Half Moon Bay AC Installation & AC Replacement Services near me
Hayward AC Installation & AC Replacement Services near me
Healdsburg AC Installation & AC Replacement Services near me
Hercules AC Installation & AC Replacement Services near me
Hillsborough AC Installation & AC Replacement Services near me
Lafayette AC Installation & AC Replacement Services near me
Larkspur AC Installation & AC Replacement Services near me
Livermore AC Installation & AC Replacement Services near me
Los Altos AC Installation & AC Replacement Services near me
Los Altos Hills AC Installation & AC Replacement Services near me
Los Gatos AC Installation & AC Replacement Services near me
Martinez AC Installation & AC Replacement Services near me
Menlo Park AC Installation & AC Replacement Services near me
Mill Valley AC Installation & AC Replacement Services near me
Millbrae AC Installation & AC Replacement Services near me
Milpitas AC Installation & AC Replacement Services near me
Monte Sereno AC Installation & AC Replacement Services near me
Moraga Town AC Installation & AC Replacement Services near me
Morgan Hill AC Installation & AC Replacement Services near me
Mountain View AC Installation & AC Replacement Services near me
Napa AC Installation & AC Replacement Services near me
Newark AC Installation & AC Replacement Services near me
Novato AC Installation & AC Replacement Services near me
Oakland AC Installation & AC Replacement Services near me
Orinda AC Installation & AC Replacement Services near me
Pacifica AC Installation & AC Replacement Services near me
Palo Alto AC Installation & AC Replacement Services near me
Petaluma AC Installation & AC Replacement Services near me
Piedmont AC Installation & AC Replacement Services near me
Pinole AC Installation & AC Replacement Services near me
Pittsburg AC Installation & AC Replacement Services near me
Pleasant Hill AC Installation & AC Replacement Services near me
Pleasanton AC Installation & AC Replacement Services near me
Portola Valley AC Installation & AC Replacement Services near me
Redwood City AC Installation & AC Replacement Services near me
Richmond AC Installation & AC Replacement Services near me
Rio Vista AC Installation & AC Replacement Services near me
Rohnert Park AC Installation & AC Replacement Services near me
Helena AC Installation & AC Replacement Services near me
San Anselmo AC Installation & AC Replacement Services near me
San Bruno AC Installation & AC Replacement Services near me
San Carlos AC Installation & AC Replacement Services near me
San Francisco AC Installation & AC Replacement Services near me
San Jose AC Installation & AC Replacement Services near me
San Leandro AC Installation & AC Replacement Services near me
San Mateo AC Installation & AC Replacement Services near me
San Pablo AC Installation & AC Replacement Services near me
San Rafael AC Installation & AC Replacement Services near me
San Ramon AC Installation & AC Replacement Services near me
Santa Clara AC Installation & AC Replacement Services near me
Santa Rosa AC Installation & AC Replacement Services near me
Saratoga AC Installation & AC Replacement Services near me
Sebastopol AC Installation & AC Replacement Services near me
Sonoma AC Installation & AC Replacement Services near me
South San Francisco AC Installation & AC Replacement Services near me
Suisun City AC Installation & AC Replacement Services near me
Sunnyvale AC Installation & AC Replacement Services near me
Tiburon AC Installation & AC Replacement Services near me
Town AC Installation & AC Replacement Services near me
Union City AC Installation & AC Replacement Services near me
Vacaville AC Installation & AC Replacement Services near me
Vallejo AC Installation & AC Replacement Services near me
Walnut Creek AC Installation & AC Replacement Services near me
Windsor AC Installation & AC Replacement Services near me
Woodside AC Installation & AC Replacement Services near me